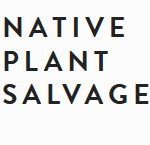 Sat., March 17
9:30am to 3:30pm (stay as long as you can)
Grab your warm winter gear and join us for some lovely time outside!  We are currently working with a very supportive developer on a site to rescue many species of small native plants prior to clearing for new multi-family housing.  We salvage plants in the morning, share the lunch we provide, then transfer to our nearby nursery to pot these rescued plants for their next journey in future re-vegetation or habitat gardening projects. You'll enjoy the camaraderie of fellow plant lovers, and hands-on learning about the diverse species on site.  We keep volunteers fueled throughout the day with hot soup and abundant snacks, plus plenty of warming and energizing beverages!
Come help however long you like – whether that's digging plants all morning and helping to pot up plants in the afternoon, or just coming for one part or the other – all contributions are needed and appreciated.
To learn more, to register and to get directions visit https://www.nativeplantsalvage.org/salvages
For more information on any of these events, email us at nativeplantsalvage@gmail.com  or call 360-867-2167.
For a list of additional upcoming events, visit https://www.nativeplantsalvage.org/calendar/