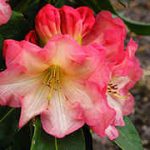 Held at the Rhododendron Species Botanical Garden and at the Best Western Plus Federal Way
The third annual Rhododendron Species Symposium will be held on April 6th and 7th in Federal Way, Washington. Enjoy visiting local gardens on your own on April 8th. Rhododendron enthusiasts, serious gardeners and horticulturists will discover up-to-the-minute information on species from Europe, Russia and beyond.
There will be an emphasis on educational time and tours in the RSBG and its facilities during the rhododendron species flowering season, meeting with staff and other delegates in what has become an internationally renowned botanical garden, containing the most comprehensive collection of natural rhododendron species in the world.
Everyone Welcome!
Lodging & meetings will be at the BEST WESTERN PLUS Evergreen Inn & Suites, Federal Way, features complimentary amenities like free parking, free Wi-Fi, shuttle service, and complimentary deluxe hot breakfast.
To learn more and register visit….
https://rhodygarden.org/cms/events/9551/rhododendron-species-symposium-2018/