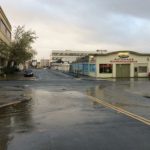 Wed, May 9- Species Shifts and Habitat Changes
6:30-8:30pm
Olympia City Hall
601 4th Ave E, Olympia
What does all of this mean, and how will it affect us? Join us and our guest speakers for three engaging talks discussing the Effects of Weather and Stormwater Responses, Species Shifts and Habitat Changes and the Effects of Wildfire and Climate.
In May, Climate Conversations will continue with Species Shifts and Habitat Changes. We will have two speakers, Lynn Helbrecht and Jessica Halofsky.
Jessica Halofsky is a research ecologist with the University of Washington and is affiliated with Forest Service Pacific Northwest Research Station. Jessica pioneered one of the first climate change vulnerability assessment and adaptation projects with Olympic
National Forest and Park. She is currently working on climate change science and adaptation projects across the western U.S.
Lynn Helbrecht currently serves as the Climate Change Coordinator for the Washington Department of Fish and Wildlife, where her work revolves around developing and implementing strategies to ensure that agency activities are managing for a changing climate.
To register visit the Stream Team Calendar and click on "Sign Up".
For more information, contact Michelle at mstevie@ci.olympia.wa.us