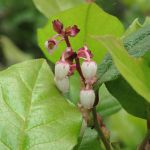 Sat, April 21
9am to 3pm
Capitol Museum Coach House
211 21st Ave. SW Olympia
Washington Native Plant Society (WNPS) South Sound Chapter will hold a native plant sale on Earth Day. Get expert advice on adding native plants to your landscape. Great selection, great prices. See our website for plants that will be available while supplies last. All proceeds benefit the society's mission to conserve, appreciate and educate about native plants. Credit/debit accepted but cash or checks to WNPS preferred to avoid bank merchant fees (3%).
Further details, including a list of plants for sale, visit
http://www.southsoundchapterwnps.org/