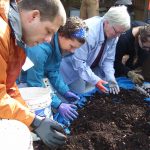 Tues, May 29 at 10am
Dirt Works Garden

Join Us & Turn Yard and Food Waste Into Soil!
Presented by certified Master Recycler Composter volunteers of Thurston County. Bring you composting questions!
Directions: Dirt Works is in west Olympia on Alta Street off of Capital Mall Drive, behind Apple Park Apartments and Yauger Park. Go to the middle of the parking lot to park near to the garden entrance. Walk down the Nature Trail by the kiosk with the green roof and the garden entrance will be on your left. [map]
FREE! No pre-registration needed.
For a list of additional composting workshops that will be offered from now through mid-October, check out this 2018 Composting Workshop Flier.