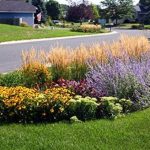 Fri, Nov 30 – 8:45am to 3:30pm
and
Sat, Dec 1 – 9am to 4pm
Allmendinger Center
WSU Puyallup Research Campus
2606 W. Pioneer Avenue
Puyallup, WA 98371
Join us for this fun two day hands-on workshop. Learn the basic steps to design a rain garden and the resources available to assist you in your design. Learn the basics of Stormwater, watersheds, and hydrology. Workshop includes tours of rain gardens and low impact projects.
Cost: Free, but must pre-register. (includes a Rain Garden Manual)
For more information and to register visit: https://www.brownpapertickets.com/event/3575752
A special thank you to the City of Tacoma for sponsoring this workshop!
Friday, November 30th
8:45-9:00 Sign In, gather morning coffee, tea, and snacks
9:00-9:05 Welcome and Housekeeping- Danielle Harrington, WSU (Washington State University) Pierce County Master Gardener Coordinator
9:05-10:05 Storm water Overview- Impacts and why care? Melissa Buckingham, Water Quality Program director with the Pierce Conservation District
10:05-10:15 BREAK
10:15-11:15 Hydrology Overview- Dr. Ani Jayakaran, Program Lead with Low Impact Development at the WSU Storm Water Center
11:15-11:45 LID/Rain Garden Tour- with Dr. Ani Jayakaran and Laurie Larson-Pugh, Muncipal Program Specialist with the WSU Storm water Center
11:45-12:15 LUNCH 30 min
12:15-1:15 Rain Gardens 101 and Regulations- Melissa Buckingham
1:15-2:15- Natural Yard Care with Natalie Jones- Tacoma Public Utilities
2:15-2:30 BREAK
2:30-3:00- Watershed Council Talk- Krystal Kyer, Planner/Watershed Coordinator with Pierce County Public Works
3:00- 3:30 Optional Homework and Closing
Saturday, December 1
9:00-9:15 Sign In, gather morning coffee, tea, and snacks
9:15- 9:30- Welcome, morning overview, share homework
9:30-10:45- Tour of Rain Gardens and LID in Puyallup with Melissa Buckingham and Pierce County Master Gardener Rain Garden Specialists
10:45-11:00 BREAK
11:00-12:00 – What Plants and Where Presentation with Jodi Albright, WSU Pierce County Master Gardener and Rain Garden Program Lead
12:00-12:45 LUNCH and BOOK SALES 12:45-1:00- Intro to PCMG RG Youth Outreach- Peggy April (if available)
1:00-2:00 Small Group Design Activity- Melissa Buckingham and PCMG Rain Garden Team
2:00-2:45- Design Activity continued (small groups with same rain garden designs convene to share)
2:45-3:30- Large group share outs of Rain Garden designs
3:30-4:00- Nuts and bolts, Closing and Evaluations
Snacks and hot beverages (coffee and tea) provided. Please bring a sack lunch. Refrigerator and microwave available in the Allmendinger kitchen.
In Partnership with Pierce Conservation District, Pierce County Public Works, WSU Puyallup Research and Extension Center, and Tacoma Water.