Master Gardener Demonstration Gardens, Thurston County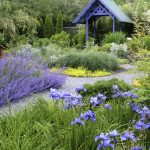 Here in Thurston County we are lucky to have three Demonstration Gardens which serve as examples to the public of the gardening techniques and recommendations from the WSU Master Gardeners and Master Recycler Composters.
Make time to come and visit us this summer!
Closed Loop Park Demonstration Garden is located at the…
Thurston County Waste and Recovery Center
2418 Hogum Bay Road, Lacey
Open weekdays 7am to 6pm and weekends 8am to 5pm except holidays.
Master Gardener and Master Recyler Composter Volunteers are in the garden Fridays and Saturdays:

March and November – 10am to 1pm
April through October – 9am to 1pm
NOTE: There is ongoing construction at the Marvin Road/I-5 interchange.  For road closure/detour information, check the City of Lacey Public Works webpage.
Dirt Works Demonstration Garden is located in west Olympia on Alta Street off of Capital Mall Drive, behind The Park at Cooper Point Apartments and Yauger Park. Go to the middle of the parking lot to park near to the garden entrance. Walk down the Nature Trail by the kiosk with the green roof and the garden entrance will be on your left. [map]
Open to the public March – October while Master Gardeners and Master Recycler Composters are working in the garden.
Garden Hours:

Tuesdays 9 am – 1 pm
Saturdays 9 am – 1 pm
Olympia Farmers Market Demonstration Garden is at the east end of the market. The market is located at the north end of Capitol Way in downtown Olympia. [map]
This garden is open to the public 24/7.