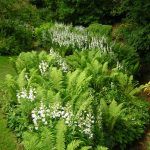 Fri, June 7 & Sat, June 8
9:30am to 3:30pm
Frondophile Shangri La! For sale are scores of ferns and choice perennials companions in garden-ready sizes.
In the gardens you'll see mature ferns and carefree blooming garden friends serve up inspiration for summer foliage and flowers. Come start a summer fling!
This garden/nursery/breeder is only open to the public four times a year. For more information and directions visit their website at www.SQnursery.com
Sundquist Nursery
3809 NW Sawdust Hill Rd.
Poulsbo, WA 98370
Map & Directions