Webinar: Designing Small Gardens with Big Attitudes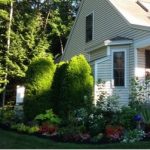 Wed, Jan 22
11am (Pacific time)
Do you have a small space to garden but want BIG results? Or perhaps your property is large BUT you have a spot that gets lots of 'eye-traffic'? Maybe it's the main entrance to your home or an entertainment area that needs jazzing up? This eye-opening presentation provides clever design and accessorizing tips for maximizing and extending color in smaller spaces. The lecture features remarkable, no-fuss perennials, flowering shrubs, evergreens and annuals that provide three seasons (or more) of beauty plus neat habits. Pollinator-friendly plants and sustainable practices are emphasized.   
This 60 -75 minute Webinar, produced and presented by nationally renowned garden educator, author and design consultant, Kerry Ann Mendez, is offered to registrants for a fee of $12.00 and is suitable for viewing by individuals (not groups) on their personal electronic devices.
Note: Registrants do not have to attend the live broadcast since they will receive a link within several days after the live presentation to access and watch the lecture whenever and wherever convenient, as many times as they want. The link includes detailed lecture notes, questions and answers received during the broadcast, plus a Continuing Education Credit form.
Kerry has an additional webinar scheduled for Tuesday, February 4 titled: Gardening Simplified: Budget-Wise & Time-Saving Tips for Sensational Gardens!
To register visit https://pyours.com/webinars-kerry-ann-mendez/
Please note that she is based on the East coast so some examples will be focused on east coast species. Most content will be universal.
For more information visit https://pyours.com/