FREE Home and Garden Workshops, Tacoma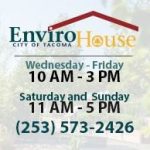 Saturdays – February/March/April
EnviroHouse at Tacoma Recovery & Transfer Center (formerly Tacoma Landfill)
3510 S. Mullen Street
Tacoma, WA 98409
Driving directions
The City of Tacoma offers wide variety of FREE gardening/waste reduction/composting workshops including topics such as: Native Plants to Enhance your Habitat; Rain Gardens: Plan, Prep, Maintain; Sustainable Landscape Design; and many more!
Register for a workshop by visiting the workshops page.
If you see a topic that interests you, SIGN UP EARLY! Workshops fill quickly!
The City of Tacoma EnviroHouse is a permanent model home showcasing green building and natural landscape ideas, materials and techniques to create a healthy home and planet. The EnviroHouse champions the benefits of sustainable living and building practices to homeowners, builders, suppliers, landscapers, real estate agents and the general public, highlighting readily available products for new and existing homes and yards.