Webinar: Flowering, Fruit Set, and Pollination Biology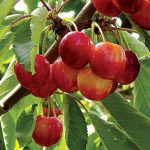 Fri, March 27
10 am (Pacific Time)
Join us for the first topic of our WSU-OSU Tree Fruit Extension Webinar series!
WSU professor, researcher and extension specialist Matthew Whiting will talk about fundamentals of flowering and fertilization, pollenizers + pollinators, S-alleles and compatibility, and the latest research on environmental effects on flowering and practical strategies for optimizing fruit set.
Bio: Dr. Matthew Whiting, Ph.D. in whole-tree physiology. His areas of interest, research and extension include whole-tree physiology, high efficiency orchard architecture, incorporating automation/mechanization in fruit production systems, environmental control of fruit quality and pollination biology.
For more information contact:
Bernardita Sallato M.Sc
Washington State University – Tree Fruit Extension Specialist
Mobile: (509) 4398542
Ashley A. Thompson PhD
Oregon State University – Fruit Tree Extension Wasco and Hood River Counties
Mobile: (541) 526-5589