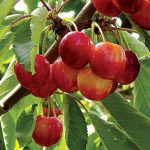 Fri, March 27
10 am (Pacific Time)
Join us for the first topic of our WSU-OSU Tree Fruit Extension Webinar series!
Flowering is a critical time for growers because fertilization rate has a fundamental relationship to yield and there is a short window of opportunity to set the crop for the year. The processes of pollination and fertilization are dependent upon many factors and these can vary from year to year and among cultivars. This webinar will cover the basics of pollination/fertilization biology as well as strategies for reducing variability and optimizing fruit set. Specifically, the following topics will be addressed:
– Fundamentals of flowering and fertilization
– Pollenizers + pollinators
– S-alleles and compatibility
– Environmental effects on flowering and fruit set
– Practical strategies for optimizing fruit set
The emphasis will be on sweet cherry but other tree fruit species will be addressed as well.