Shed Project
A partnership between the Nisqually Indian Tribe and the Master Gardener Foundation of Thurston County provided Closed Loop Park Demonstration Garden with a new shed in 2021!
Good Partners Answer Closed Loop Park's Wishes
It's hard to maintain a two-acre demonstration garden built on landfill but a hard-working group of volunteers have made it happen for 28 years. Their priority in 2019 was to remove a deteriorating shed, infested with mice. All they asked for was a new durable shed to store essential tools and supplies.
Master Gardener Foundation of Thurston County (MGFTC) approached the Nisqually Indian Tribe with a request for funding. Great news! In December 2019, the Tribe awarded MGFTC a check for $3,000. MGFTC shared the total cost of a new shed. The team's wishes were coming true.
With the partnership between the Nisqually Indian Tribe and MGFTC, the project produced a Premier Tall Barn 8' x 10' Tuff Shed installed with one coat of paint. And a volunteer workforce provided at no additional labor cost:
Removal and disposal of the dilapidated original shed
Site preparation for the new shed
Second coat of paint
Building shelving and tool storage systems
Due to the unusual circumstances presented by COVID-19, WSU Master Gardener programs were locked down for much of 2020. Product and labor shortages delayed installation until September 2021.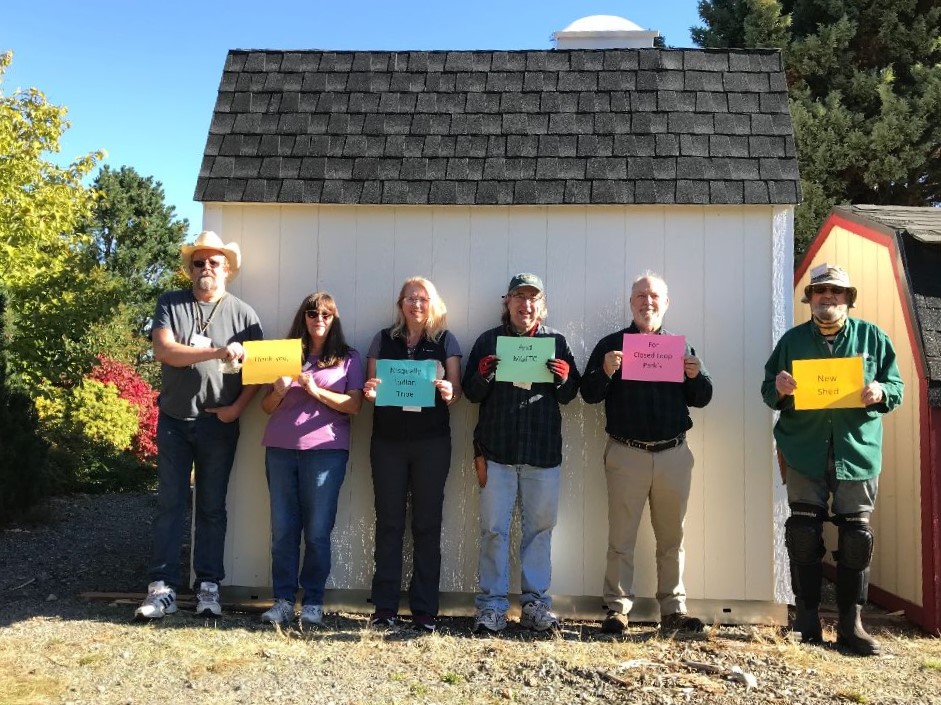 Closed Loop Park is located at the…
Thurston County Waste and Recovery Center
2418 Hogum Bay Road
Lacey, WA 98516
Location on Google Maps
WSU Master Gardener and Master Recycler Composter Volunteers are in the garden Fridays and Saturdays during much of the year.